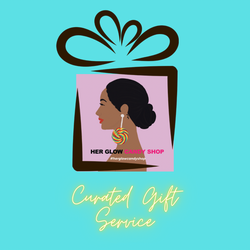 Her Glow Candy Shop
Curated Gift Service
Shopping for someone special? Give the gift of sweet, chic accessories hand-picked by Candy Shop owner, Ife, and the Candy Shop team!
Here's how it works:
-Add this "Curated Gift Service" item to your cart and purchase.
-Complete the HER GLOW CANDY SHOP Gifting Form on the "Gift" page so our team will recieve your request.
-The Candy Shop team will curate your gift according to your request and email your options for you to purchase from the Candy Shop.
-Your gift items are shipped out to you!

Happy Gifting!